With more than 25 years of experience in tuna detection and satellite communication, applying cutting-edge technologies and in constant evolution, the fishing sector has been our passion and commitment from the beginning.
The know-how acquired allows us to work successfully on other projects in sectors such as Oceanography, Aquaculture, Sensorics, but with an unequivocal dedication to clients in the Tuna sector.
Artificial Intelligence and Machine Learning applied to our buoys for tuna fishing, for three years, is without a doubt the present and the future to offer customers the necessary tools that allow them to optimize their operations, make informed decisions faster and reduce costs, always with the improvement and care of fishing resources.
With a change in the company's Management, in September 2021, we face the future with a commitment to Global growth, with the trust and support of our clients and companies with which we collaborate.

We have a multi-disciplinary team of more than 90 people, facilities that meet what our customers demand, and an extensive distribution and service network that provides solutions to our customers with dedication, 24 hours a day, 7 days a week. Days of the week.
Innovators: from the idea to the product
We are pioneers in the application of satellite communications to tuna fishing. With a deep knowledge in detection technologies, acoustics and remote communications, we develop and provide quality services. Customers come first, and we design, implement and support tailored solutions to meet the unique needs of our customers. This is possible since we control all the processes from the idea to the delivery of the final product.
The location of the main plant, close to the Loiu airport (Bizkaia) and the port of Bilbao, allows us to offer agile responses to our clients. We complete this comprehensive and quality service with warehouses with permanent stock in strategic international ports.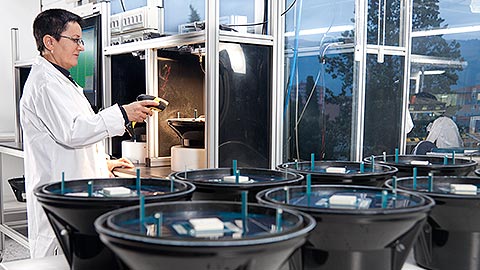 Associations Matter
Collaboration with other technology partners is part of the growth strategy and customer focus. This allows us to be global innovators and a first-rate reliable partner, providing quality products and services to our customers.