COST REDUCTION AND EFFICIENCY INCREASE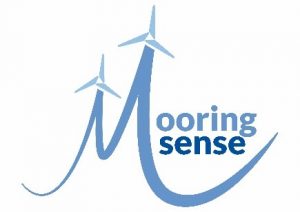 The Mooring Sense project has been set up to reduce operating costs and increase efficiency by developing an efficient risk-based integrity management strategy for mooring systems based on affordable and reliable online monitoring technology.
The proposed solution will be enabled with the development of a low cost smart sensor for FOWT motion monitoring, a digital mooring system model (DT), structural health monitoring (SHM) techniques, likewise control strategies for mooring condition management tolerance at turbine and farm levels. The proposed monitoring technology will replace existing unreliable and expensive load cell based monitoring systems on mooring lines via a combination of a robust motion sensor and numerical models. Moreover, the measurements will enable the development of more efficient operation and maintenance strategies, including optimised control.
The strength of the Mooring Sense consortium covers the entire value chain. With a proven track record in the offshore gas and oil industries, in addition to the support received from experienced research institutions, the project will be launched with the current partner's technology to develop an innovative and cost-effective mooring integrity management system enabled by Global Navigation Satellite System technology, coupled numerical modelling, control engineering and machine learning, with a resulting higher overall system efficiency and reduced operating costs, compared to other known established alternatives.
ZUNIBAL is taking part in this project as a Smart Sensor developer and solutions integrator.
This project has been funded by the EU Horizon 2020 research and innovation programme pursuant to funding agreement no 851703.