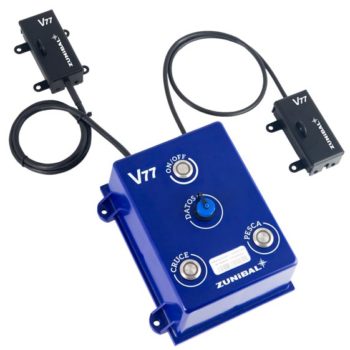 The Blue Box V77 is the Zunibal's fishing vessel tracking device. This unit has been developped to comply with the order ARM / 3238/2008, which regulates satellite-based fishing vessel monitoring in Spain. The V77 provides accurate, secure and confidential information. It allows high scalability by configuring data collection according to the needs of both the owner and the authorities.
Certified and approved by the following authorities
National Institute of Aerospace Technology (I.N.T.A)
General Secretariat of the Sea (S.G.M)
General Directorate of the Merchant Marine (D.G.M.M, approval number 66.0020)
The V77 equipment operates through the Iridium satellite network, guaranteeing worldwide coverage. In this way the ship can report on its position and send the necessary reports from any point.
Worldwide coverage.
No maintenance.
Easy installation.
No moving parts on the antenna.
Iridium satellite system.
Data encryption and message authentication
Its design has the latest technology in satellite communications and data encryption which makes this equipment the most modern on the market.
Intuitive and robust design
Made of robust materials that guarantee its durability and easy installation.
Designed with just three buttons for intuitive usability:
On / Off button.
Cross button to inform that the ship is in transit.
Fishing button to inform you that you are fishing.
Zunibal facilitates administrative procedures
Zunibal is in charge of processing all the administrative procedures to register the equipment so that the user does not have to make any formalities with the administration.
Technical specifications
Temperature range -30°C a +70°C
Frequency range 1616 MHz a 1626.5 MHz
Multiplex communication
TDMA / FDMA
Power +9Vcc / +30Vcc
Li-Ion battery
Average consumption 18,3 mA
Integrated GPS receiver
Box TX-RX
Height 200 mm
Width 180 mm
Depth 84 mm
Weight 3,3 kg
Antenna
Height 210 mm
Width 70 mm
Weight 0,2 kg