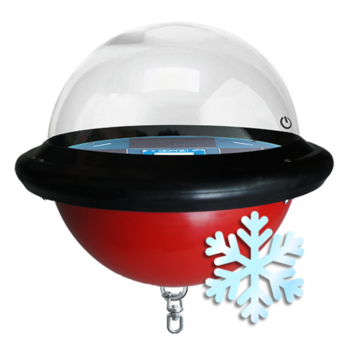 New buoy for longline fishing in cold areas manufactured by Zunibal. The Polar Buoy has an operating temperature from -35ºC to 85ºC, with solar charge, high precision GPS and resistant to 25 ATM, maintenance free. Its easy and intuitive installation kit will allow you to locate and manage your entire fleet from anywhere, thanks to its adaptive web design.
Iridium global coverage.
Sending position every 15 minutes or configurable according to customer needs.
High precision GPS for fast location, saving time and fuel.
No need for additional accessories.
No need for chargers.
Solar charge, no need to replace batteries.
High brightness flashes for location.
Encrypted messages, maximum security.
Free of mantenimient.
Low-cost communications plan.
Extended temperature range.
Robust design.
Resists immersion up to 25 ATM.
Operating temperature from -30ºC to 85ºC.
No need for battery replacement.
Without external antennas.
Weight: 7.5kg
Diameter: 312 Ø
Easy and intuitive installation.
No need for additional equipment for satellite transmission.
Without aditional costs.
Marinated Design.
Latitude, longitude, heading, speed, date, time.
Adaptive design: fleet position on PC, tablet and smartphone.
Operating temperature from -30ºC to 85ºC.
Weight: 7.5kg
Diameter: 312 Ø