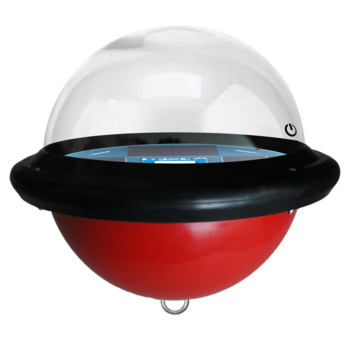 Zunliner | Longline satellite buoy
New longline satellite buoy manufactured by Zunibal, with solar charge, GPS of high precision and resistant to 25 ATM, with no need of maintenance.It has an easy and intuitive installation kit, which will allow to locate and manage all your fleet from any place, thanks to its adaptive web design.
Global coverage by Iridium.
Answers in less than 3 minutes.
High accuracy GPS for fast localization, saving time and fuel.
No need of any additional accessories.
No chargers on board.
Solar powered, no batteries.
High luminosity flashes for its localization.
Encrypted messages, maximum security.
Maintenance free.
Low-cost plan in communications.
Resists immersion until 25 ATM.
Operating temperature 0ºC – 45ºC.
No need for battery replacement.
No external antennas.
Weight: 7,5kg
Diameter: 312 ø
Easy and intuitive installation by the user.
No need of additional equipment for satellite transmission
No additional costs.
Marinized design.
Latitude, longitude, course, speed, date, time.
Mobile friendly website: fleet position in the PC, tablet and smartphone.