Our ANTEIA ocean-meteorological buoy in the waters of Bizkaia to improve the safety of people
Thanks to ANTEIA, information will be offered on the state of the sea in favor of the safety of bathers, surfers and sailors, as well as monitoring gale situations
In collaboration with the Basque Government and the Bilbao Engineering School of the UPV/EHU, our ANTEIA ocean-meteorological buoy has been installed in the waters of Bizkaia, specifically in the vicinity of the beaches of Gorrondatxe (Azkorri), Barinatxe (La Salvaje ) and Arrietara-Atxabiribil. Thanks to ANTEIA, information will be offered on the state of the sea in favor of the safety of bathers, surfers and sailors, as well as monitoring gale situations.
The buoy forms part of the observation network of the Port of Bilbao and of the current ocean-meteorological observation systems of the Basque Government. Its inclusion in these systems will allow the Directorate for Emergency Attention and Meteorology to expand its surveillance capacity of the Basque coast.
The initiative is part of the MAREA POCTEFA European project focused on the study of the coastline and the modeling of the marine environment.
ANTEIA is characterized by being small (26Kg – Ø 0.6m), requiring anchoring and staying close to the coast, and will continuously provide data of interest related to wave conditions (height, direction and wave period). ) in a specific point of great maritime activity near the coast, close to several beaches characterized by surfing.
In this way we will analyze the data obtained in real time with the technical-scientific objective of characterizing the state of the sea and generating a database that allows us to broaden our knowledge of the environment for the benefit of the socio-economic activities of the area, of the sustainability and conservation of the environment and the safety of the users themselves.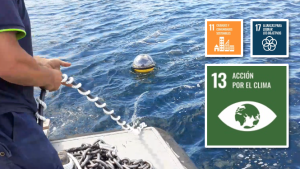 Through participation in this project we will promote Sustainable Development Goal 13, which defends the adoption of urgent measures to combat climate change and its effects, since it will allow in-depth study of adverse meteorological events such as gales. At ZUNIBAL we want to raise awareness, evolve and offer tools so that any activity at sea is sustainable.